Featured Products
High-Purity Solvents
Get the performance and accuracy you need with solvents that minimize the risk of contaminants and maximize instrument sensitivity and detection power.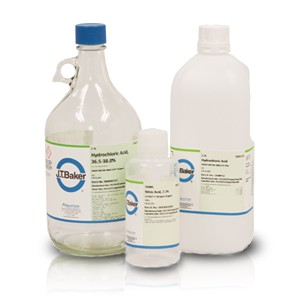 High-Purity Acids
Whether used for trace-metal analysis or for general use, the J.T.Baker line of high-purity acids promises the consistency you need for reliable results, every time.
ULTRA LC/MS
Meet the most demanding research and analytical testing applications, such as proteomics, drug discovery and more, with J.T.Baker ULTRA LC/MS Solvents.
Products
Resources
High-Purity Solvents and Reagents

Avantor Sales Flyers – Direct Dispense Packaging
---
Avantor™ Performance Materials manufactures and markets high-performance chemistries and materials around the world under several respected brand names, including the J.T.Baker and Macron Fine Chemicals™ brands. Avantor's innovative life sciences products are used in the manufacturing processes and research laboratories of some of the world's largest and most prolific biopharmaceutical and pharmaceutical companies, and in leading analytical laboratories worldwide.